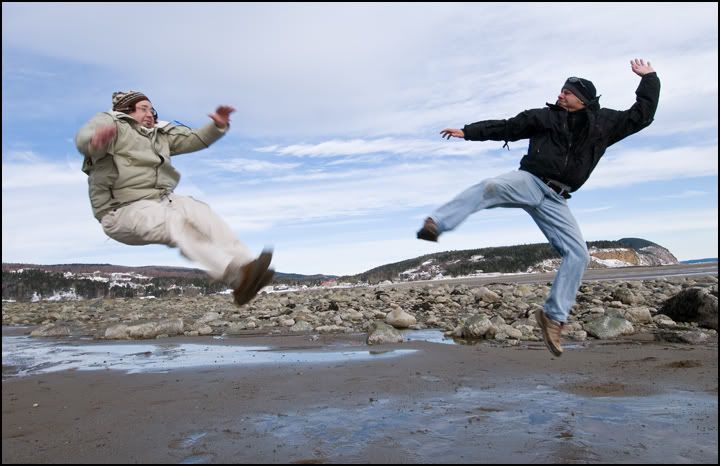 I got to get away and have a little photo excursion today and now have a ton of new images with which to play with. I will be making many posts this month.
This image is made up of two images. I set the camera up on a tripod and I took gordos photo serveral times as he did some pretty funny jumps. He then shot me doing the same thing. I opened them both in photoshop and while holding down the shift key i dragged one photo on top of the other. My tripod is not the best and it was also sinking in the sand which resulted in the photos not being perfectly aligned. In photoshop cs3 under the edit menu there is a new function called auto align layers which i used next. To get this to be ready to use you have to first go into your layers pallate and highlight both layers.
Auto align worked perfectly on these except for the clouds as they were different in each image. I next highlighted the top layer and created a layer mask. Use a reasonable sized soft edge brush with black as your forground color swatch and paint over the image where you want the underground image to show through (gordo was hidden on the underground layer). This made both of us visible in the image. The sky was not perfect so where i over painted i then switched my forground swatch to white and painted over the over painted areas around gordo. I flattened the image, did a slight curves adjustment to warm it up a bit, smart sharpened 45% and was done.
You can have alot of fun with this. Try shooting yourself in multiple positions in a room and then use this method to strip the images together.