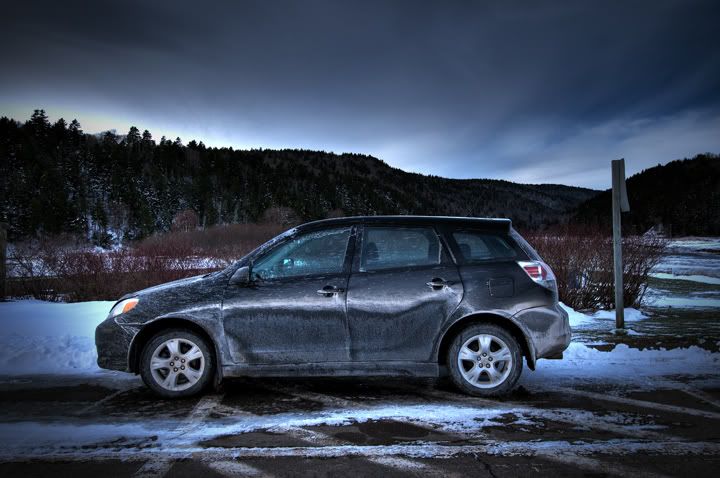 I was looking to do something a little different tonight (using blending modes to combine photos) but found that i have to take some texture photos as i dont have any. Look for this in a post to come. I want to change skin into an ice texture.
Anyway, i did find this shot of my car that i shot on a tripod and shot 7 bracketed images. I loaded the 7 images into photomatix and played with the sliders. I gave my workflow in photomatix in an earlier post if your wondering.
When i had it how i liked it, i sharpened it alot with smart sharpen, probably with a value of about 90. I then wanted a very dramatic vignette so i duplicated my background layer and added a heavy vignette (filter - distort - lens correction) to this top layer. It darkened the car a bit so i just applied a layer mask to that layer and used a large soft edged brush to paint on the mask with 50 percent black. I just painted over the car and a bit on the ground and background around it for a bit of a halo effect. I used a curves adjustment layer to add a bit of contrast and was done.
Below is one of the originals.
I promise to get away from hdr for the next post although i do feel that using hdr took a pretty boring image and at least made it into something worth looking at.