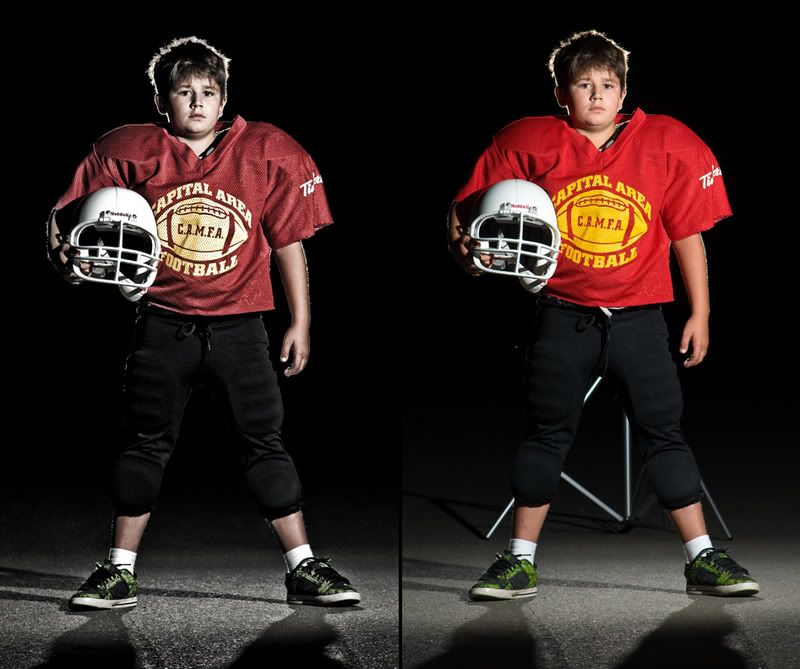 My son got his football gear tonight and a portrait was in order.
I set up a sb flash behind him and one to camera right at about 45 degrees. Both were pointed directly at him and on manual.
The image to the right is what came out of the camera.
The image to the left was achieved by first opening the image in camera raw and opening into photoshop as is.
I then opened the image into camera raw again and took the vibrance, clarity, fill light, recovery, and contrast to 100 percent.
I then took the saturation to 0, making it black and white.
I adjusted the exposure and blacks to get the photo looking how i wanted.
I opened it and then placed the original color image on top of the black and white image.
So now i have one image opened with the color top layer and the black and white bottom, or background, layer.
I clicked on the color layer to activate it and changed its blend mode to overlay.
I then took the opacity down to 62%.
I flattened the image and smart sharpened.
I then retouched the light stand using the clone tool and healing brush (just do it rough with the clone and then blend it in with the heal).
That was it.
I have two more panos in the cue for tomorrow.