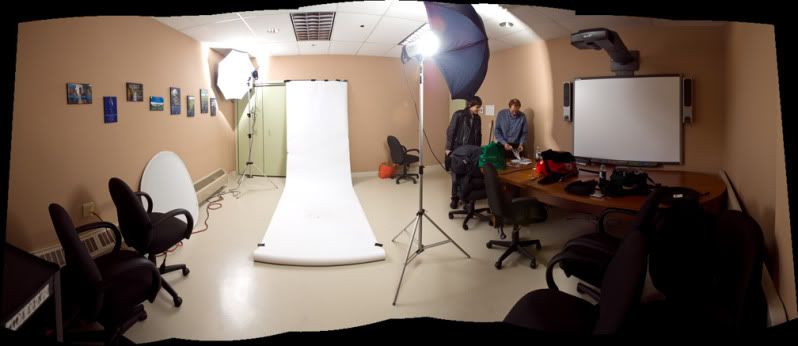 I shot 9 full body shots and portraits on location last week. I was taken to "the only room that is available" and lets just say i was less than excited. It was a lovely board room, dont get me wrong, but it was small with brown walls.
I have shot in alot worse, really really worse on occasion. Like your subject in the room with a light and you out in the hallway shooting through the door. But i did not have to do full body in that situation and last week i did.
I set up two lights, one as a hair/rim and the other as the main. I used a dx camera and a 35mm lens to shoot the full body shots which made them look a bit on the wide angle side for my liking. I also shot some waist up shots which i was able to use a 70-200 lens for. Everything worked out alright but it got me thinking of many of the places that i have been led to set up for a photo session. I have moved more chairs and boardroom tables than most people will in a lifetime.
For this pano i took 7 vertical frames with a 17mm lens, and sent them to photomerge from lightroom (in lightroom go to photo - edit in - merge to panorama in photoshop).
I just thought of a fun little test. I am going to do a shot in a closet with two lights and see what i get.
I will post the results.