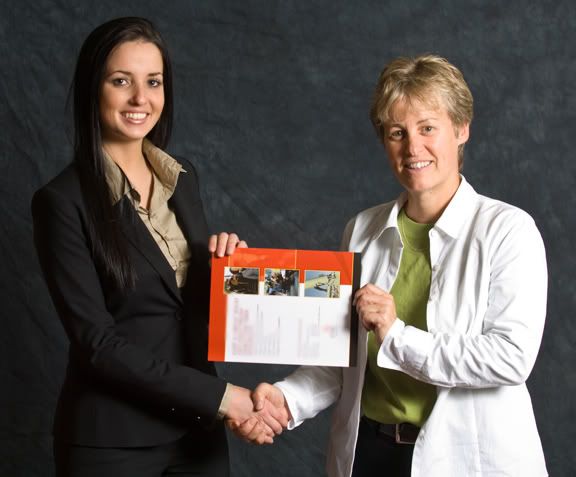 This image is from a shoot i did last week where i had to photograph about 70 deans list students shaking hands with the dean. Well, the girl on the left was early and the dean was late and she had to go. Bring in the stand in. My co-worker/boss did a fine job but deans list students are smart and she may rather be seen with the dean.
I looked through the other photos to find one that had his hand shaking hand in about the right place to start. I did a loose selection of him (very loose) with the lasso tool. Then using the move tool i drug him out of that photo and into the one in which i needed him. I moved him into place and then created a layer mask and with a large soft brush i painted in black on the mask to blend the backgrounds from the two images together. This was very easy. I then made my brush much smaller and started carefully masking out the excess from my top layer. I did a bit of cloning where needed and then healed it a bit to blend better but for the most part just masked the layers together. The fingers on top of the certificate ended up way above where they were suppossed to be so i did another rough selection of her fingers and copied it and pasted to a new layer. I then slid them down into place and rotated them a bit using transform. I made another mask to clean up around the fingers and was done.
I should also mention that i used one light here placed to the right and bounced into an umbrella.