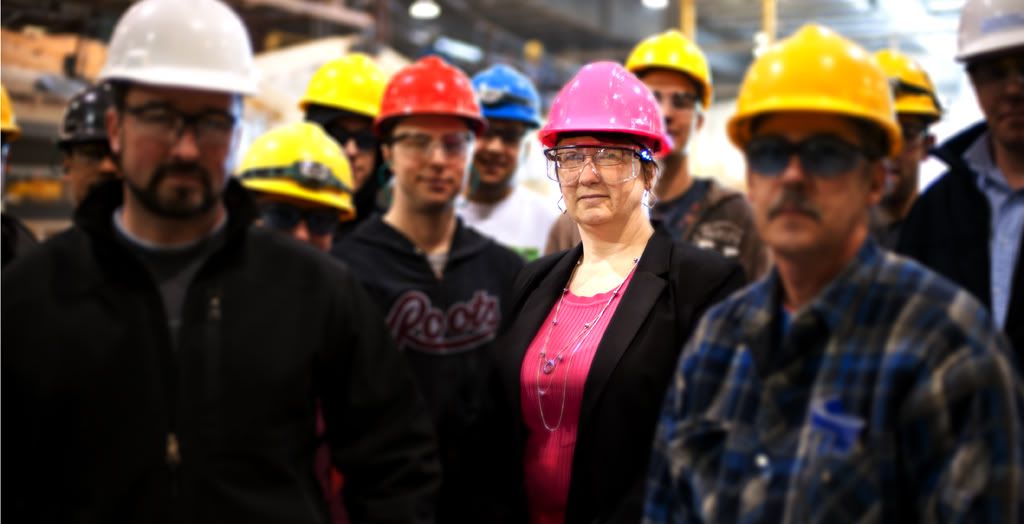 I photographed the president of a building association recently and this is one of the shots.
The client sent me two photos as ideas and wanted to have her in amongst a crowd of hard hats.
The shot was supposed to be taken from above but i did this angle first and then moved to the higher shot.
I liked this one and the client likes the other. I never have a problem with a client liking a different shot, no matter how much i like another. I would not be shooting the image to begin with if it were not for them and at the end of the day i want them happy so they will have me back for more.
I lit this with two sb flashes pointed directly at the subject. My main was more powerful than my fill by a bit and i was careful to place her in the light and not someones shadow. I did not have long for this one as all the guys gathered around as soon as we got there and i hadn't even set up a light stand yet. The doors were also wide open in this warehouse and it was freezing in there. My guess would be 10 minutes max on this from get there to tear down.
In photoshop i darkened everyone except my subject by creating a darker layer and making a mask. I also put a lens blur on that layer as well.