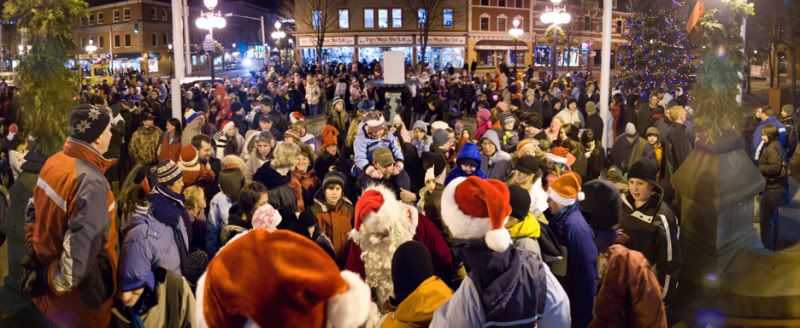 I had to shoot an event for client that happened outside, at night, in very cold temperatures.
The event was a city hall christmas tree lighting and then a $2000 money drop from a fire truck boom.
First thing i did of course was head to the fire chief and check to see if i could get up in the boom to shoot the crowd. With number one task checked off i then had to figure out how i was going to show the crowd of people. My widest lens is a 24mm f2.8 which got fairly wide but not enough to really show what was going on. I had two flashes with me and three pocket wizards but really what good was that going to do with a crowd this size.
So pano with natural light was quickly decided. I turned my camera to the vertical position and took as many shots as i needed to cover approximately a 180 degree shot. I think it ended up being 7 to 10 shots. I shot at 3200iso which ended up looking really good.
Once back in my warm office i opened the photos in camera raw and adjusted the settings and white balance, which was pretty yellow and green. After hitting done in camera raw i went back to bridge and under tools - photoshop - photomerge. I selected my raw files and hit go. Other than cropping the final images i did nothing else to them at all.
Below are a couple more shots. I didn't spend as much time on the white balance as you will see.