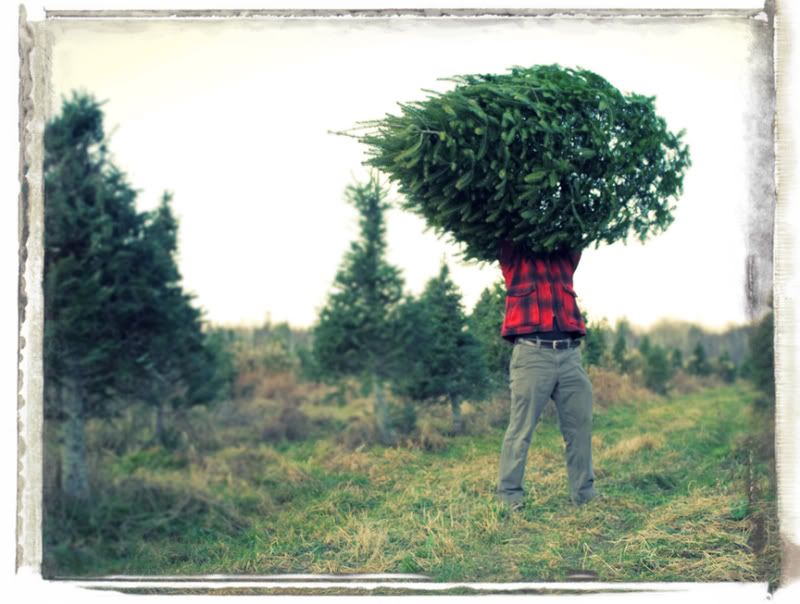 For some reason i got this idea in my head for my christmas card this year and could not shake it.
I started this process by borrowing a hunting jacket from my neighbor, thanks john. I then got up nice and early this morning and luckily did not have to go far as there is a christmas tree farm just down the street from my house. Driving there i almost turned around a couple times (even though it only took 1 minute drive) as i had no idea what i was going to do once i got there. When i pulled in i saw that someone had a fresh tree cut and it was laying on the ground. I started by doing some shots of me dragging it around and then, as usual, and gordon could confirm, it went down hill from there, mentally that is. I picked the tree up about a dozen times and tried to time it with the self timer on the camera so i would not have to hold it that long. It was heavy. The shoot was over when i could not feel my hands anymore, it was freezing cold.
Back to the warm office and i opened the images in bridge. I selected my photo and then opened it first in camera raw and then photoshop. I had the idea of using a cross process look so i didnt really do much in camera raw.
I will not go into the cross process technique as i just got a tutorial off the internet
(http://www.photoshopsupport.com/tutorials/or/cross-processing.html). I may have tweeked it a little but not much different than the tutorial.
I then wanted a grunge border and again went online
(http://www.640pixels.com/articles/free-photoshop-grunge-borders.aspx).
I opened the border and drug it onto my image. I then went to edit - transform - scale and made it a bit bigger to fit. I also selected the very bottom little line and moved it up a bit.
I then wanted most of the image to be more blurred so i duplicated my background layer and added a gausian blur. I used a layer mask to see through to the background for the parts that i wanted to keep sharp.
I was very happy with the end result.
Before i even took the photos i had envisioned the entire process from start to finish and it did not change once i got started.
I will talk more about this very soon.