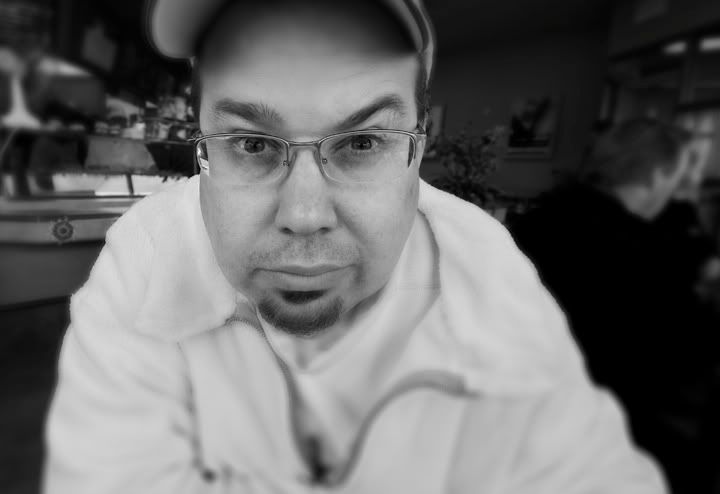 I was playing in lightroom tonight and had a chance to take a second look at some images i shot recently.
I was playing with a landscape photo and trying a couple different things (i will post it at the bottom) and thought i would try the effect i came up with on a face. I think i like it better on a landscape but anyway here it is.
First off i opened a color photo of gord and converted it to black and white by going to image - adjustments - black and white.
In the panel that opens i played a bit with the sliders to try to make the image look a bit infared. I moved the red slider to the right and the blue to the left a bit.
I then wanted to blur most everything except his eyes and what was along the horizontal path of his eyes. I duplicated the background layer and clicked on the eye icon to the left of this new copied layer to hide it. On the background layer i then went to filter - blur - lens blur and cranked the radius up to about 55. Quite blurry. I clicked on the top layers eye again to show it and then added a layer mask to that top layer. I selected the gradient tool and used the celindrical shape in the options palatte (4th icon over). I made sure my forground color was black and background white and then clicked at his eye level and dragged the mouse to about his chin. I played with this a bit till i got it right. I then chose my paint brush and painted a bit in black to the left and right of the face on the background.
I smart sharpened and did a slight curve to increase contrast and was done.