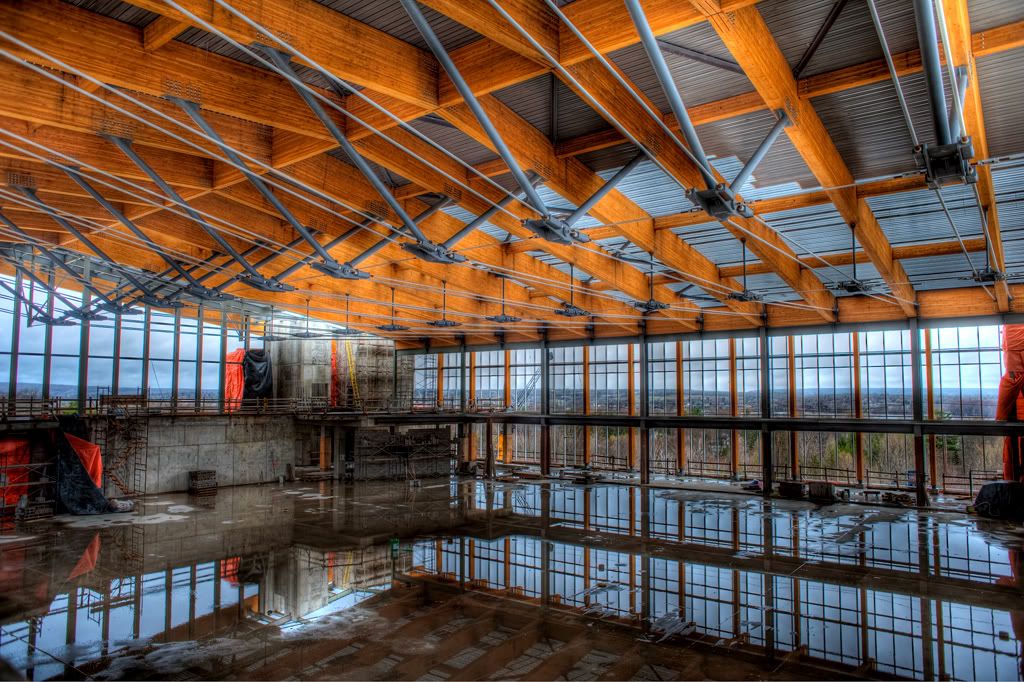 I shoot one building every year or so for a company that makes steel. I have shot a water treatment plant, a high school, an overpass, and now a gym. I am sure there were a couple more in there but i cant remember what they were now. I started using hdr awhile back because the interiors were very dark and you could always see to the outside, which was very bright. Before hdr i used different exposures and composited them together in photoshop. Hdr has saved me hours and hours.
In between my sons volleyball games saturday morning i took a quick run over and bracketed about 240 frames. I spent a good part of my sunday evening running them through lightroom and into photomatix. I used a mid light smoothing setting in photomatix and cranked up the luminosity slider to the far right to light up the ceiling. I used 5 bracketed images for this one which was shot with a 24mm lens, on a tripod, at 200asa. I was very cold and was worried about camera movement on the slower exposures but everything worked out ok.
I opened the tonemapped file in photoshop and did a curve, a sharpen and that was that.
I am very much looking forward to when the building is completed. I have two shots planned, one inside and one out, and they will both be hdr. I just need a helicopter for the outside shot but other than that it should be pretty straight forward.